UK inflation hits ten-year high
The BPA's Policy & Economic Analyst, George Finch, examines the latest inflation statistics.
We know that some ports are in the midst of certain financial planning and looking ahead to 2022, whilst others follow economic developments with interest. Last week, the Office for National Statistics (ONS) published its latest inflation figures.
They show, as expected, a significant rise in inflation. The Consumer Price Index (CPI) rose by 4.2% in the 12 months to October 2021. This is the highest 12 month increase in ten years and more than double the 2% target.

The CPI rate increased by 1.1% in the month to October. This was driven by price increases in transport, education, clothing and footwear, and restaurants and hotels, and the sharp increase in household energy bills.
See a chart on the CPI rate below.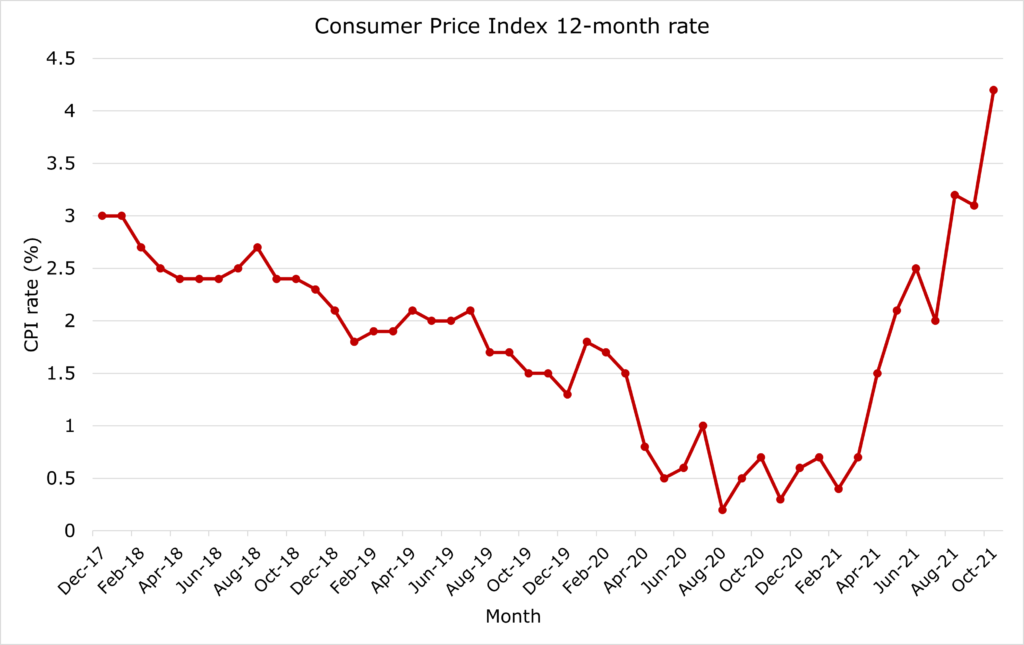 The Governor of the Bank of England is "very uneasy" about rising costs, yet the Bank's Monetary Policy Committee (MPC) is yet to raise interest rates. The Committee is set to meet again on 16 December, when a decision will again be made on whether to raise the base rate above 0.1%.

Supply chain problems and labour shortages caused by the COVID-19 pandemic have resulted in price rises around the world. This month, consumer prices in Germany rose to 4.5% (highest in 30 years), and the US rate surged to 6.2%.
Alongside this, the UK Retail Price Price Index (RPI), a less-used but historically important inflation measure, is currently at 6.0% (October 2021).

Please see the ONS website for the full release on the UK's inflation figures.