The British ports sector plays an essential role in the UK economy. 95% of the UK's international trade, both imports and exports, pass through the ports and they are essential hubs for the energy and tourism sectors. A major part of that success story is our people; the dedicated individuals who keep our industry running through thick and thin.
The UK ports industry directly employs approximately 115,000 people, and creates additional jobs in logistics, energy, and tourism. However, more than that, the ports sector provides real opportunities for coastal communities and offers excellent career prospects for enthusiastic and talented people from all walks of life.
And not all ports careers require maritime experience. Positions in engineering, finance, and health and safety are just as much in demand as marine pilots, deckhands, and divers. So long as you have the drive to succeed, the ports sector wants you!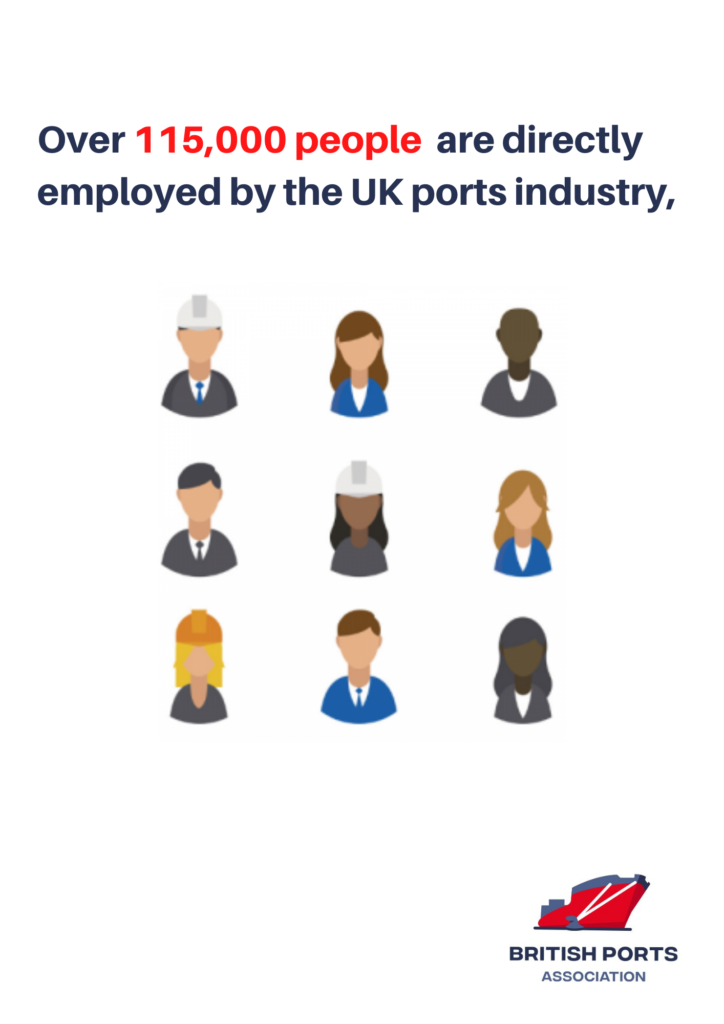 Who Are We?
The British Ports Association is the national membership body for ports in the UK, representing 86% of all UK port traffic. We work hard to promote this thriving industry, both to the public and to government and see our role as essential in advocating not just for the major ports operators but also the key workers that keep our economy afloat. We aim to work towards an equitable, diverse, and transparent ports industry, and provide the secretariat for the Association of Participating Bodies of the Pilots' National Pension Fund.
How to Enter the Ports Industry
Key skills are always in demand, and the industry provides excellent opportunities for development in a practical setting. No matter what your talent, there is a job for you. These are just a few of the positions available in this vibrant and exciting industry.
As with many industries, ports derive much of their income from day-to-day banking, invoicing customers, and other financial works. As such, there are several opportunities for accountants and finance officers in the ports industry. This can range from an Accounts Assistant, who provides clerical and smaller budgetary duties, to the Chief Finance Officer who is responsible for developing control systems designed to preserve assets.
Ports would cease to function without the hard work and experience of engineers. Electrical, mechanical, and apprentices are all essential to the running of ports, and often to excellent career progression within both their discipline and the port operator themselves.
Due to our coastal nature, the ports sector views themselves as custodians of some of the most spectacular and diverse areas of the British coastline. As such, the industry takes this role seriously and positions are open for environmental and sustainability officers. From investigating potential breaches in conduct to coordinating pollution policy, environmental positions form a large part of the social compact between operators and their communities.
Our people are the secret to the port industry's success and keeping them safe from harm is a top priority. Health and Safety Managers conduct audits, inspections, and guidance for all 115,000 people in the sector and work frequently with our colleagues at Port Skills and Safety to ensure standards are maintained.
Communications is of ever-increasing importance to the ports industry, as we aim to be more than just economic hubs but also drivers of investment in the local community. Public relations and communications managers play a key role in this mission, providing online comms, press releases, and internal publications. There is also the business aspect to consider, and marketing assistants are pivotal in the creation and distribution of market research and company branding.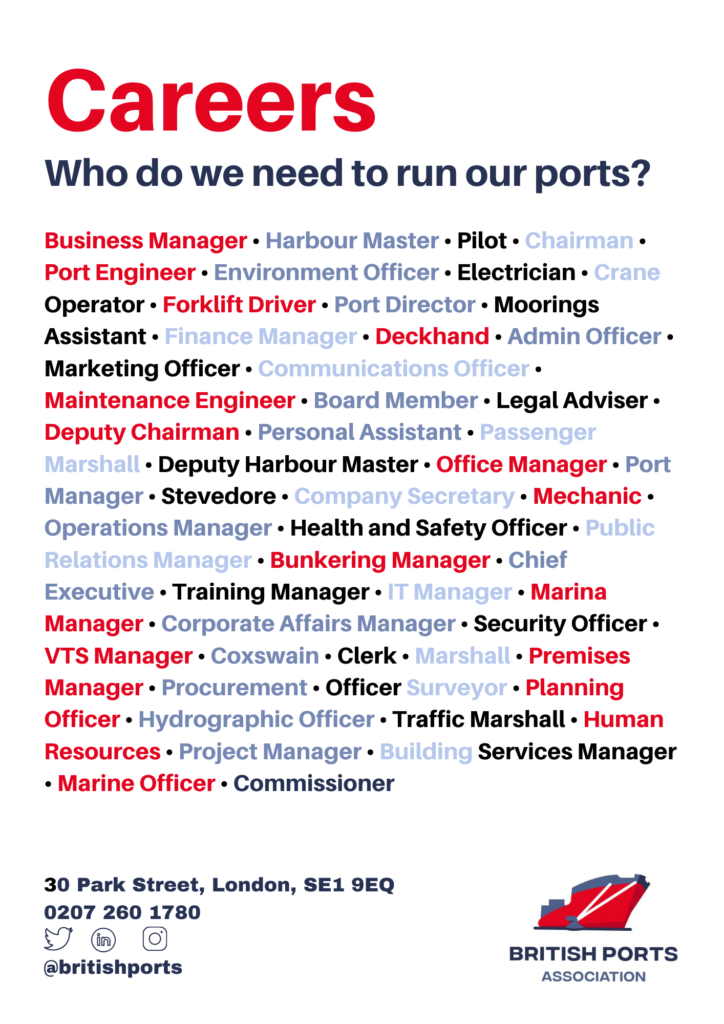 Apprentices
Much of the ports sector relies on the accrued knowledge of thousands of industry veterans who understand their work inside and out. However, that knowledge is best passed on not through the classroom but by practical, real-world experience that only apprenticeships can offer. There are hundreds of port-based apprenticeship opportunities throughout the UK, providing internationally recognised qualifications and paid positions for everyone from school leavers to career changers.
Diversity
The ports industry is committed to the principles of equality and diversity, believing that only through embracing different people from different backgrounds can new and successful ideas be allowed to propagate. The sector provides a wide range of jobs, allowing people to work to their strengths while exploring new career paths and possibilities. In recent years, BPA has worked with Maritime UK on their Maritime Careers Hub and Ethnicity in Maritime Initiative to encourage people, regardless of age of demographic, to consider working in a maritime setting. As an island nation, it makes sense.
The following ports industry jobs have been sent to us by our members.
Please download the attached files or click the links to view.
If you are a member and would like us to add a vacancy please contact us.
To find out more about Maritime Careers please click here.