Global Container Congestion Affecting UK Ports
13 October Update: See our latest statement here.
What is happening?
Container ports around the world are dealing with backlogs in containers. UK ports are experiencing particularly high volumes as a result of that combined with additional traffic as businesses ready Christmas stock. Vessel schedules have been disrupted by global port congestion making planning more difficult and a shortage of HGV drivers and tight warehousing space both mean some traders are leaving goods at ports for longer.
Containerised trade carries consumer goods and other smaller supplies around the globe. Containers account for approximately 15% of UK port tonnage.
Why is this happening?
UNPRECENDENTED VOLATILITY: This is always a busy time of year for the freight industry. Covid-19 has disrupted the usual flow of trade and we are now seeing unprecedented volatility and unpredictable and changing patterns of demand. We are also seeing some existing trends accelerating rapdily such as an increase in e-commerce which is adding to the surge in container shipping demand as many consumer goods are imported from Asia.
LAGGING SUPPLY AND DEMAND: When the Chinese economy came out of lockdown earlier this year we saw a glut in containers arriving in the UK and Europe but depressed demand, which used up a lot of storage and warehousing space.
EMPTIES: Contributing further to the congestion is a shortage of empty containers in Asia, needed to carry cargo. When the Chinese economy opened up again earlier this year there was a glut of containers coming in but not many going out as Europe and the UK stayed locked down with exports depressed. The oversupply meant some goods went into storage at the same time as exports were depressed, meaning many thousands of containers ended up on the wrong side of the world. Getting these back where they need to be has added to pressure of freight rates.
STOCKPILING: As the end of the Brexit transition period nears, some importers are bringing goods through earlier and/or stockpiling in anticipation of potential supply chain disruption in 2021
SEASONAL: These factors come on top of what is always a busy time for the freight industry
HAULAGE ISSUES: UK Shortages in HGV drivers mean that some importers are struggling to collect their cargoes from ports as quickly as usual. Ports are reporting many cargoes are being left longer before collection although this is not uniform and affecting some sectors, ports and cargoes differently due to a variety of underlying issues such as commodity prices and warehouse capacity.
DISRUPTED SCHEDULES: Congestion and disruption at container ports around the world is making it harder for ports and terminals to plan for vessel arrivals.
Which ports are affected?
Container ports around the world, from China to the US and Europe are affected. In the UK, ports handling large volumes are containers are dealing with the knock-on effects of this congestion as well as UK-specific factors.
The image below, from vesselfinder.com shows cargo vessels (the yellow dots) queuing the the anchorages outside the ports of Los Angeles and Long Beach – currently one of the most congested ports in the world.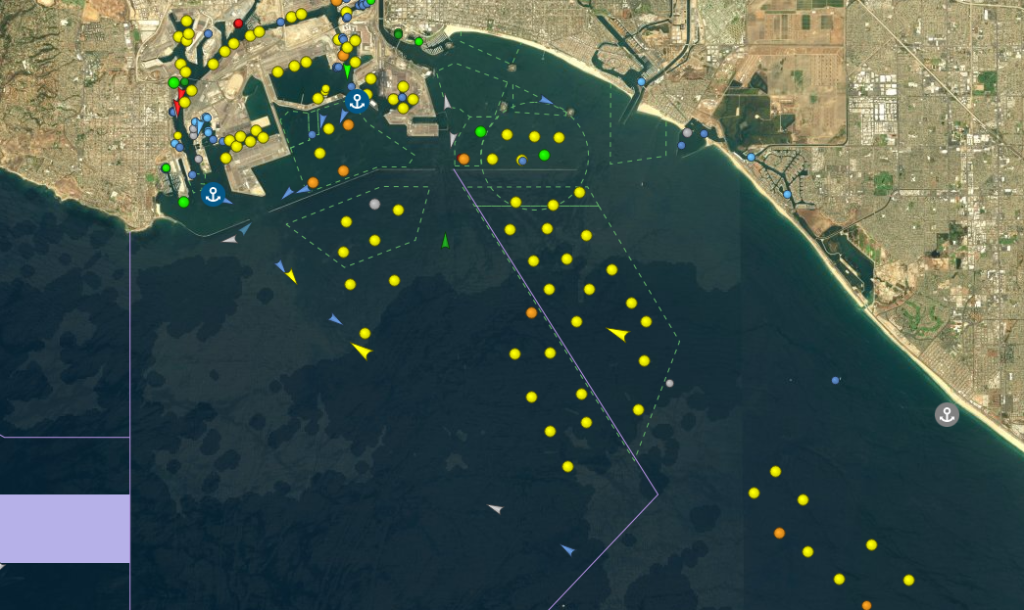 How will it be resolved?
Some ports and terminals report that the peak has passed, whilst others are still experiencing significant congestion. Ports are working around the clock to clear the backlog. Industry has written to the Secretary of State for Transport to reassure Government that industry will deal with this issue, although volumes are expected to remain high for several months. The freight and logistics industry has made some specific requests of Government to temporariliy speed the flow of freight.
Container ports around the world are dealing with backlogs in containers, originally stemming from the post COVID-19 lockdowns when we saw surges in activities and pressures on cargo storage. Getting empty containers back to Asia and other locations has been challenging but the shipping industry is doing its best to meet global demands. This has been a real issue in North America and continental Europe. A particular issue UK ports are also experiencing surrounds the lack of haulage. This has meant that some freight is not being collected as rapidly as they would normally be from port terminals of all type, not just container ports. This has resulted in some further delays for a range of ports and terminal operations are working with their customers to get these goods out of their ports to avoid further congestion. Also this is a peak period in the freight calendar as the pre-Christmas order books create an additional surge in the demand for the ever import hungry British economy.
Richard Ballantyne, BPA Chief Executive, 12 October 2021
Haulier Shortages
The lack haulage capacity has contributed to inefficiencies across the supply chain. We are seeing increased wait times at ports. The shortages pushes up costs and puts suppliers under more pressure. As many have warned, Covid and Brexit have obviously contributed to haulier shortages and we are very supportive of the haulage industry's calls for a review of the post Brexit immigration rules for European based HGV drivers. Action is needed now, particularly ahead of the introduction of new enforcement controls for imports in January which could add more pressures on the supply chain.
Richard Ballantye, BPA Chief Executive